the woodlanders 30th new forest exhibition
Burley Village Hall
Open Daily 10am - 5pm including Sundays
September 10th to 25th 2022
SEPTEMBER 2022 will see the WOODLANDERS 30th Exhibition.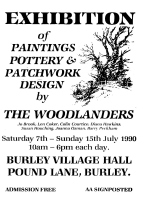 THE WOODLANDERS
A tale of simple country folk
A simple tale of country folk.
Over thirty years ago, in 1990, DIANA HAWKINS and I (SUZAN HOUCHING) came up with the idea of holding an art exhibition in Burley. Diana had lived in the village for many years and I had moved to Burley, with my husband and three children five years previously. Diana and I made friends at Burley Art Club. For our exhibition we invited COLIN COURTICE to join us and then BARRY PECKHAM, LEN COKER, JO BROOK and JOANNA OSMAN came in with us, and THE WOODLANDERS became our chosen name as we all lived in or near 'The Forest'.
Diana, a well respected landscape artist and an extremely talented minaturist, continued to paint despite her illness, until, sadly, she died in January 2015.
We have remained a small group, never exceeding thirteen, and Burley is our Home. All of our exhibitions have been held here except one that was held at Highcliffe Castle some years ago. Over the years various artists have been 'a Woodlander' as can be seen in 'Past Artists' to the right. Colin was still part of the team until a few years ago. After a few years out being busy working for his own exhibitions he returned for 2014. 2014 wasn't a good year for The Woodlanders with two of our artists passing away. Colin passed away on Sunday 12th November 2014 after a battle with cancer. Colin's obituary in the Bournemouth Echo. Brian Harrild passed away on Sunday 21st September 2014 after a battle with liver and lung cancer. Brian's obituary on page 4 of The Herald
THE WOODLANDERS are an unusual group and our exhibition reflects this. We each hang about twenty-three paintings plus cards, prints and unframed work. Our woodcarvers fill the stage with their work. We all demonstrate our individual way of painting during the exhibition. There are usually three or four demonstrating each day. The woodcarvers also demonstrate their art, as do our two potters.
We meet up throughout the year in one of our homes, or to celebrate birthdays and anniversaries. Over the twenty years we've seen children grow and grandchildren arrive and we've shared each others difficult times as well. The Woodlanders have proved to be more than just a group; we're long term friends as well. We've also got to know many visitors over the years who come back to see us.
Our exhibitions are held in support of Diabetes UK, my choice, as I've had 'Type 1' diabetes for almost forty years, and diabetes affects so many families. Each year we've been able to send approximately five hundred pounds to our local branch of Diabetes UK in Lymington.
We've always had some very interesting 'Openers' for the private view, amongst them Hannah Gordon, Carl Tyler, Charlie Dimmock, Richard Digance, Ian Pepperall, Julian Clegg, Buster Merryfield, Sylv Willoughby, Alina Jenkins, Lawrie McMenemy, Janet Courtice, Sandi Jones, Murray Walker O.B.E., Richard Cartridge, Alina Jenkins, Simon Parkin and Roger Finn, Dan Tanner.
Past Exhibitors with The Woodlanders
Artists
Len Coker, Barry Peckham, Sheila Houghton, Claire Kitcher, Jenny Scott, Jan Nilsom, Ron Nilsom, Jose Berrow, Rosemary Grant, Clive Daniels, Alan Langford, Janet Langford, Tony Mercier, Dennis Hill, Brian Harrild, Colin Courtice, Paul Hampson, Stephen Foster, Sarah Lynn Sibley.
Woodcarvers
Joe Wilding, Brian Williams, Jake McGivern, Nigel Chant, Alan Oade and Richard Tutton.
Potters
Joanna Osman, Susan Law and Geraldine Trayhorne.
Embroidery and Quilting
Jo Brook