the woodlanders next new forest exhibition
Burley Village Hall
Open Daily 10am - 5pm including Sundays
September 12th to 27th 2020
Linda Easter
Tel:

Website: The Woodlanders site
Email: gordon@thewoodlanders.co.uk

Linda Easter .
Having always loved drawing as a child I came back to art when my daughter had grown up. My medium of choice is acrylic, I like it's versatility. Animals are my preferred subject. I have had several successes with my art. In 2008, I was awarded winning acrylic painting in the BIG ARTS AND CRAFT CHALLENGE. In 2009,I won the WILDSCAPE LIVING BRITAIN competition.I was chosen for PATCHINGS FESTIVAL in 2010, and was one of the SIMPLY THE BEST winners in the Leisure Painter competition in 2011. Also I was awarded runnner-up in the WILD AND TAME, Leisure Painter competition in 2013 and HIGHLY COMMENDED by them in 2009,2012,2015. I was HIGHLY COMMENDED by the Artist MAGAZINE in 2013 and COMMENDED by the E.A.C in 2014. Then to my delight, my painting GOLDEN HARE was winner of the BEST AMATEUR ANIMAL AND WILDLIFE category SAA ARTIST OF THE YEAR in 2015. In the same year my painting MOTHER LOVE of a chimp and her baby was on the front cover of the SAA PAINT MAGAZINE with an article about my work inside! In 2017 TITCHFIELD ART SHOW awarded me second best new exhibitor.
<
Linda's Paintings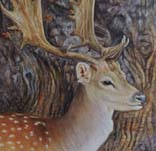 More of Linda's paintings to follow.